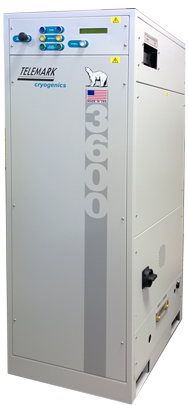 Cryogenerators (TVP)
Telemark TVP Cryogenerators for Meissnertraps
Meissnertraps (Water Vapor Cryotraps) are used to very efficiently pump water vapor in vacuum. Pump down times are significantly reduced, improving the productivity of the vacuum plant. Meissnertraps are always operated in conjunction with a high vacuum pump (Turbo, Kryo, etc) as the surface temperature of the trap only allows pumping of water vapor. Due to the fact that a very high percentage of the residual gas consists of water vapor, the reduction of the pumping time is enormous, in many cases it can be reduced by 50%. The Telemark TVP series provides the latest advancements in cryotrap technology:



Fast "Cool Down" and "Defrost" for extremely short cycle times
Compact, modern design, small footprint
Outstanding manufacturing quality
Comprehensive Digital Control Package with Digital Communication Connectivity
TVP Water Vapor Cryotraps


Decrease Pumpdown Times by 25% - 90%
Attain Deeper Vacuum
Eliminate Costly LN2 Usage for Fast Payback
Improve Deposition Quality
Are available in four sizes (TVP3600, TVP2700, TVP1800 and TVP1200) with different cooling capacities
Are CE certified and compatible with the latest environmental EC-regulations. Consumption of energy and water is minimized.
Are available as Single or Dual Circuit Models
Will be – on request of the customer- installed and serviced by our certified technicians. Upon installation each unit receives a booklet that contains all necessary information about the history of the unit.
Incorporate a modern trouble-shooting system. Errors and the possible cause will be displayed. All relevant parameters can be displayed on the machine or monitored and stored on a computer via serial interface. This feature facilitates service as protocols of different times can be compared and possible problems can be identified easier.
Old water vapor craotraps or cryotraps of other suppliers (Polycold for example) can easily by changed.)
The specialists of PST GmbH will be plaes to help you selecting the right TVP model, also on site. We also can replace older water vapor cryotraps like Polycold for example. We are looking forward to your request.
Design and manufacturing of cryocoils
Service
Only certified service technicians may work on cryogenerators. Our staff has the necessary certificates and is ready to work for you on request.
We would be happy to offer you a individual service contract. 
A regular maintenance does not only preserve the value of your equipment but also avoids unnecessary leakage. Since a couple of years refrigerants containig chlorine with a high ozone depleting potential may not be used anymore, but the current chlorine-free refrigerants still have a certain global warming potential. Leakages should therefore be avoided to make sure that changes of the global climate are minimized.
Further on electrical energy is saved if cryocoolers are regularly overhauled, cryotemperatures stay consistent over a long period of time.
Please contact us if you are interested.