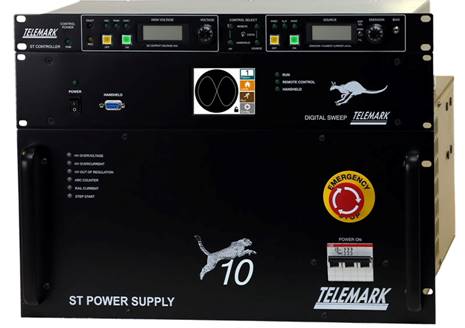 Telemark High Voltage Power Supplies for EBeam evaporators
Telemark Tetrode-tube High Voltage Power Supplies for EBeam evaporators
Modell TT-10/15/20
with maximum power of 10/15/20 kW
simultaneous operation of up to three sources

power regulation by a long life tetrode tube; very short response time for effective suppression of arcs

high voltage stability: <5%

stability of emission current: <1%

external control of high voltage and current via PLC interface

remote control for sweep and HV/emission is included

optional programmable sweep module "Cheetah"

air cooling
Model TT-3/6/8
with maximum power of 3/5/6/8 kW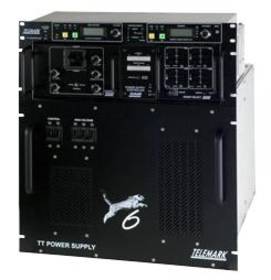 tetrode tube for long life and very short response times for effective suppression of arcs

constant high voltage maintains a stable beam position

integration in 19" racks possible

standard sweep module with sawtooth and oscillating circle

optional programmable sweep module "Cheetah"

air cooling
Specifications of Telemark tetrode tube high voltage power supplies for Ebam evaporators
| | | | | | | |
| --- | --- | --- | --- | --- | --- | --- |
| model | TT-3 | TT-6 | TT-8 | TT-10 | TT-15 | TT-20 |
| maximum power | 3,5kW | 6kW | 8kW | 10kW | 15kW | 20kW |
| simultaneous sources | 1 | 1 | 1 | up to 3 | up to 3 | up to 3 |
| maximum emission current | 500mA @ -7kV | 750mA @ -8kV | 800mA @ -10kV | 1,0A @ -10kV | 1,5A @ -10kV | 1,7A @ -12kV |
| HV (adjustable) | -5kV to -7kV | -6kV to -8kV | -6kV to -10kV | -4kV to -10kV | -4kV to -10kV | -4kV to -12kV |
| response time | <100 microsec. | <100 microsec. | <100 microsec. | <100 microsec. | <100 microsec. | <100 microsec. |
| filament supply | 40A max. @ 8VAC | 40A max. @ 8VAC | 40A max. @ 8VAC | 40A max. @ 8VAC | 40A max. @ 8VAC | 50A max. @ 8VAC |
| control voltage | +/- 10VDC | +/- 10VDC | +/- 10VDC | +/- 10VDC | +/- 10VDC | +/- 10VDC |
Telemark Switching High Voltage Power Supplies for EBeam evaporators
Sweep modules
Telemark Digital Sweep with remote
5 shapes available, triangular, sinusoidal, circle, line and point
Frequencies 0.1 – 100Hz
Repeatable Lissajous figures
Pocket center and limits are programmable
8 Pattern memory
Coil current limits and "coils good" check
Spare parts
The table below contains the most important spare parts for Telemark high voltage power supplies. Please note that these devices may only be serviced by trained  technicians.
High Voltage is dangerous!
If you have any questions concerning your Telemark high voltage equipment please contact us. Our service staff is available for any repairs and regular maintenance.
| | | |
| --- | --- | --- |
| Description | Part Number | Used on |
| Tetrode Tube | 114-0009-1 | TT-3, TT-6 |
| Tetrode Tube | 114-0076-1 | TT-8 |
| Tetrode Tube | 114-0008-1 | TT-10/15 |
| Mother Board | 120-0101-1 | TT-3 |
| Mother Board | 120-0101-2 | TT-6 |
| Mother Board | 120-0001-2 | TT-8, TT-10/15 |
| Red Deck | 123-0007-1 | TT-3 |
| Red Deck | 123-0001-1 | TT-6 |
| Red Deck | 123-0045-1 | TT-8 |
| Red Deck | 123-0044-1 | TT10/15 |
| HV-Capacitor | 113-0009-1 | TT-3, TT-6 |
| HV-Capacitor | 113-0043-1 | TT-8 |
| HV-Capacitor | 113-0001-1 | TT-10/15 |
| HV-Diode | 114-0001-1 | TT-3, TT-6, TT-8, TT-10/15 |
| Resistor 20MOhm, 10W | 112-0004-1 | TT-3, TT-6, TT-8, TT-10/15 |
| Resistor 100Ohm, 225W | 112-0001-1 | TT-3, TT-6, TT-8, TT-10/20 |
| Resistor, 75Ohm |   | TT-15 |
| Air Switch | 116-0020-1 | TT-8, TT-10/15 |
| Transformer for Mother Board | 118-0007-1 | TT-8, TT-10/15 |