For more than 20 years Telemark electron beam sources are used worldwide in production and research. Main advantages are a rugged construction, long life and a very good price/performance ratio.
Features:
270°-beam deflection (filament is protected against ion bombardment and spitting material)

patented watercooling of the crucible for long life and hogh power levels

rugged, manufacturing-proven construction

uncomplicated operation and service

permanent magnet for the basic deflection of the beam enhances safety and avoidsdamage to the gun in case of a defective sweep module

long life filament block

easy exchange of the filament outside of the evaporation system

crucible can be side- or bottom driven

coaxial water cooling of the crucible for models246/266/276/297 eliminates a dynamic water-vacuum seal

the crucible is made out of two pieces; the upper part with the pockets can easily be removed for cleaning and crucible exchange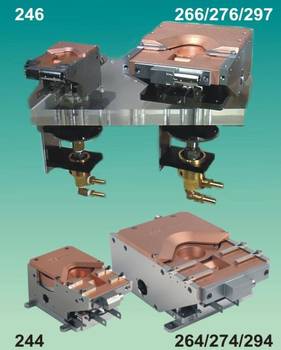 Service und delivery:
The electron beam sources are delivered with a spare emitter parts kit

all important spare parts are on stock at PST in Germany

worldwide service network
Options:
Self-sealing crucible cover avoids cross-contamination between neighbored pockets. The cover closes when pockets are in position and opens during crucible rotation

"Arc-Less": this option allows to operate the evaporator in higher pressure ranges

Magnetic fluid rotary feedthroughs for "Semi-UHV"-applications (up to 10-9 mbar)
These options can be ordered together with the e-beam gun or integrated later.
Telemark electron beam sources have an optimised magnetic field; the beam hits the material to be evaporated almost perpendicularly and does not change its position even when the filling height drops during evaporation. The energy distribution across the crucible is optimised, there is less spitting out of the melt and uniformity and reproducability on the substrate are enhanced.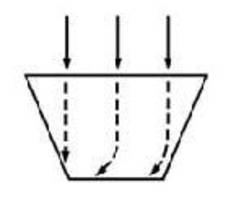 For crucible configurations please visit our download area.
More crucible configurations are available on request.
All e-beam evaporators are available with special magnetic fluid rotary coaxial feedthrough for pressures down to 10-9 mba
More crucible configurations are available on request.
Special multi pocket electron beam guns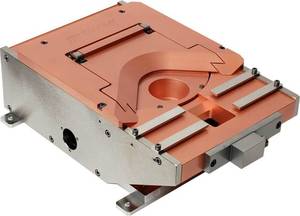 Telemark model 294 (297 with coaxial cooling) is a special electron beam gun developped for production with very big amounts of material. Together with the "Arc suppression" option the source is ideal for ion assisted optical coating processes, because an operation at higher pressure levels without arcing is possible. In addition it can be equipped with the self sealing cover plate and is the ideal for lift-off processes. For gold, graphite or similar materials cross-contamination into other pockets is thus avoided.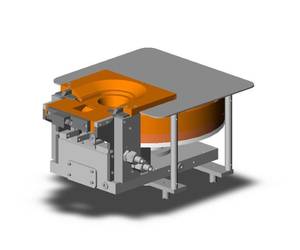 Model 295 is the Telemark multi pocket electron gun with the biggest available pocket volumes. For instance, six 100cm³, ten 40cm³ or 1615cm³ pockets are available (and many more). Also a trough with 1468cm³ volume is possible. The source has been developped for thick layers and big throw distances.
A brochure showing all electron beam guns is available in the download area.