Electron beam sources with continuos feeding of evaporation material "Rod-Fed"
The single pocket e-beam gun 272 can be upgraded with the "Rod-Fed" Option. The rod is feeded continously from underneath through the open bottom of the pocket. The rod can be rotated, feeding and rotating speed can be adjusted independantly.
This option is ideal for production applications with high consumption of evaporation materials, especially metal oxides, alloys or subliming materials. The specifications of the 272 gun do not change. The standard diameters of the rods are 1" or 1,5", standard length is 13,5"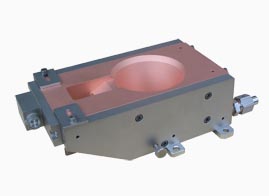 Option for minimizing arcing at higher pressures ("Arc-Suppression")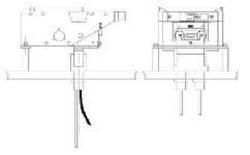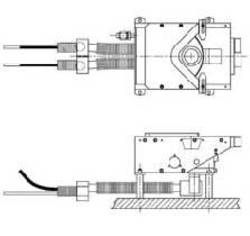 Typical "Arc-Suppression" configurations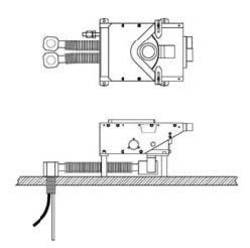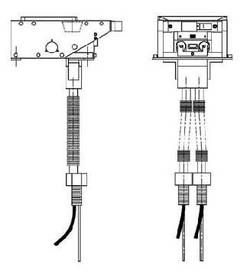 The option "Arc-Suppression"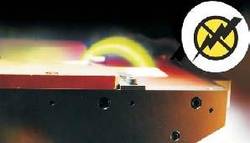 Evaporation at pressures > 5x10-3 mbar in O2
- no infuence by ion sources or other discharges
- many possible crucible configurations up to 6 x 100cm³
An evaporator with arc-suppression is ideally suited for applications with gas inlet, like optical coatings or ion-plating. The significant reduction of arcs results in a better quality of the coating, higher yield an longer maintenance intervals.
The option is available for most of the Telemark guns. The outer dimensions of the standard gun are slightly changed, the high voltage feedthroughs and cables are encapsulated in a bellows leading to the source and need a separate water cooling. 
For all users, who do not want to change their crucible as a fixed part of their system, model 263 offers a compact and price attractive solution.
The unit is placed close to the customers crucible to achieve an optimum postion of the beam in the pocket. The source can be operated at up to 15kW an additionally equipped with the Arc-suppression option.
Customized Electron Beam Sources
Telemark builds e-guns -according to requests of customers- on special flanges, also complete with all necessary feedthroughs.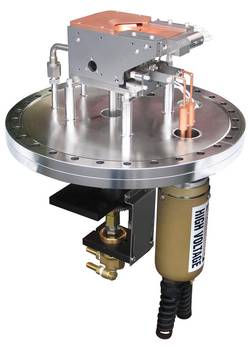 The e-gun shown is a typical example for the various possibilities of custom design.
Further on crucibles can be delivered according to customers requests in all possible combinations of pocket sizes. If you need a gun according to your requirements, please send us an inquiry .